New York's Cannabis Landscape: Business Opportunities are Sky High
After years of stalled attempts, New York State recently became the 15th state in the nation to legalize recreational cannabis, with passage of the Marijuana Regulation and Taxation Act, enacting a robust program to reinvest millions of dollars in minority communities ravaged by the decades-long war on drugs.
Cannabis companies, and those interested in entering the industry, are mobilizing to get their piece of the projected $4.2 billion cannabis industry in New York. New York's leading urban strategy firm Capalino has launched a Cannabis Advisory team to assist businesses in navigating the complex political, business, regulatory and real estate landscape.
Legalizing marijuana is encouraging news, especially as we recover from the COVID pandemic and look for ways to drive both economic recovery and equity in New York. As expected, a law as controversial and closely-watched as this comes with a lot of questions, as there are still many details of the program that need to be worked out, including regulatory, licensing and zoning requirements. Over the coming months, state officials will write the policies and guidelines that will affect many aspects of recreational cannabis use. Here's what we know so far:
Background
The legislation legalizes cannabis for adults over the age of 21 and creates equity programs for people disproportionately affected by the drug war. Adults can possess up to 3 ounces of marijuana without fear of arrest or prosecution. And you can consume it anywhere it is legal to smoke tobacco. Whether for recreational or medical cannabis purposes, both large conglomerates and young startups are becoming increasingly interested in cannabis' potential.
Capalino has been working with companies and advocates on this legislation for many years, and there is considerable interest from firms around the world looking to invest in the cannabis industry in New York State. Opening up the cannabis market in New York is smart policy and Governor Cuomo and legislative leaders deserve a tremendous amount of credit.
Economic Impact
The cannabis industry in New York State has the potential to create significant economic opportunities. Once the plan is fully rolled out, tax revenues from the adult-use cannabis program are projected to reach $350 million annually. Additionally, there is the potential for this new industry to create 30,000 to 60,000 new jobs across the State.
Advocates applauding the legalization of marijuana in New York have said it's the biggest thing since the end of prohibition, and will be 100 times more profitable.
Key Program Points
The new legislation establishes the formation of the NYS Office of Cannabis Management (OCM) which will be monitored by the Cannabis Control Board and Advisory Boards. The OCM will oversee the licensure, cultivation, production, distribution, sale and taxation of medical, adult-use and cannabinoid hemp within New York State. The legislation provides licensing for marijuana producers, distributors, retailers, and other actors in the cannabis market, and creates a social and economic equity program to all small businesses and minority businesses to participate in the industry. In addition, this legislation will address decades of injustices on minority communities from the war on drugs through targeted investments and fairness in criminal justice law.
Most of the program is evolving, although possession and use of up to three ounces by anyone 21 and over became legal immediately. Almost every other aspect of the 128-page, 7,000-line law will take effect over months or longer. The recreational cannabis program will not take effect for another year at least as dispensary and on-site consumption sales of marijuana cannot begin until April 1, 2022 at the earliest.
Cities, towns, and villages may opt-out of allowing adult-use cannabis retail dispensaries or on-site consumption licenses by passing a local law by December 31, 2021 or nine months after the effective date of the legislation. They cannot opt-out of adult-use legalization.
Economically, this bill will generate significant tax revenues for New York, create thousands of new jobs, provide a much-needed boost for the upstate agricultural markets and put New York State on a level playing field with other states already benefiting from the cannabis industry.
Social Equity
As noted above, there is a critical social justice component to this new legislation. "Legalizing cannabis was the first step in this historic endeavor to right the wrongs of the past," Governor Cuomo said. Lawmakers recognized the toll the war on drugs and harsh marijuana sentences took on communities of color, including jail time for offenses that are no longer illegal. To help make amends, the bill includes social equity provisions that apply 40% of tax revenues from cannabis sales to community reinvestment grants for communities negatively impacted by over-policing and offers cannabis business opportunities to traditionally underrepresented groups. In addition, the legislation directs 40% of cannabis revenues to education and 20% to drug treatment and public education programs. Marijuana arrests and convictions legalized under the law will be expunged, and law enforcement will not be able to use the odor of marijuana as a pretext for a search.
Governor Cuomo spoke about the tremendous impact of this cannabis legislation noting: "Legalizing adult-use cannabis isn't just about creating a new market that will provide jobs and benefit the economy — it's also about justice for long-marginalized communities and ensuring those who've been unfairly penalized in the past will now get a chance to benefit."
Business Implications
The prospects for cannabis and its economic repercussions provide tremendous business and growth opportunities. Cannabis has to be grown, harvested, packaged, distributed and sold, which opens the doors for organizations to enter the market in a variety of sectors. In New York, cultivation of cannabis will largely take place indoors due to the length of our growing season. There will probably also be some smaller-scale craft outdoor grow operations. It is important to note that there are substantial energy and local approval needs. Businesses will need to check local regulations when they look to develop a cultivation facility. There are also jobs to be created around marketing, regulation, delivery and research.
The legislation creates a complex regulatory system for this nascent sector. It will also pave the way for a brand-new source of retail and service areas including dispensaries, retail stores, hotels, healthcare and spas, as well delivery businesses and as new cannabis-related product lines. People will be buying marijuana from storefront dispensaries, as well as locations permitted for on-site marijuana use, such as cigar bars, catering halls and outdoor dining areas, with strict rules on where smoking and vaping is allowed. Limited special event permits will also be issued for indoor marijuana use.
However, there are numerous regulations, license and zoning requirements, permits, and community engagement issues in the real estate and retail sphere that will need to be worked out before dispensaries, retail stores, spa and hotel-based dispensaries can start selling cannabis. At this point, the specific regulatory and zoning requirements have not been established. On the local level, we expect that zoning, size limitations, operating controls, parking, and even streetscape improvements may be incorporated into future approvals for retail and consumption sites. As it currently states, retail sites are restricted 200 feet away from religious institutions and 500 feet from school grounds. These rules will differ depending on location, whether within the Manhattan core or in the 5 boroughs.
Major concerns for distribution include security and how local municipalities will view the facilities, including the approval processes that will be developed, as well as zoning issues. Warehousing and distribution facilities are allowed in more restricted locations such as certain commercial and manufacturing districts, each of which has its own set of regulations pertaining to loading and parking. The same applies to processing facilities. It's likely that allowed uses would be a mix of as-of-right and discretionary, potentially requiring a public review process.
Capalino's real estate team in partnership with other practice groups will use its extensive zoning, land use, permitting, and community engagement know-how to help identify qualifying sites and opportunities and to assist with successful approvals. This applies to the range of retail and other outlets, as well as locations for processing, warehousing, and distribution facilities.
Navigating New York's Regulatory and Business Landscape
Since the recreational cannabis program will not take effect for another year, New York has time to create and cultivate a business industry that will drive revenue growth and open the door for job opportunities across all sectors.
With business opportunities ranging from agricultural cultivation to processing, distribution and retail sales, companies wanting to enter this market sector in New York State will need to navigate the ever-changing NY complex political and business landscape. This involves issues ranging from business strategy, real estate and site selection, zoning, permitting, licensing, energy and sustainability, as well as technology and marketing.
Capalino's Cannabis Advisory Team is advising businesses on how to tackle this new legislation and its complex regulatory requirements to maximize opportunities for market penetration and business growth. The Cannabis Advisory Team combines expertise in land use, permitting, business strategy, social responsibility and community engagement to help identify qualifying sites and opportunities and to assist with successful approvals. This applies to the range of retail and other outlets, as well as locations for processing, warehousing, and distribution facilities. Capalino will also help drive business strategy and address the social equity programs that are an integral part of this legislation.
Capalino will advise companies across the entire cannabis value chain, including the following service areas: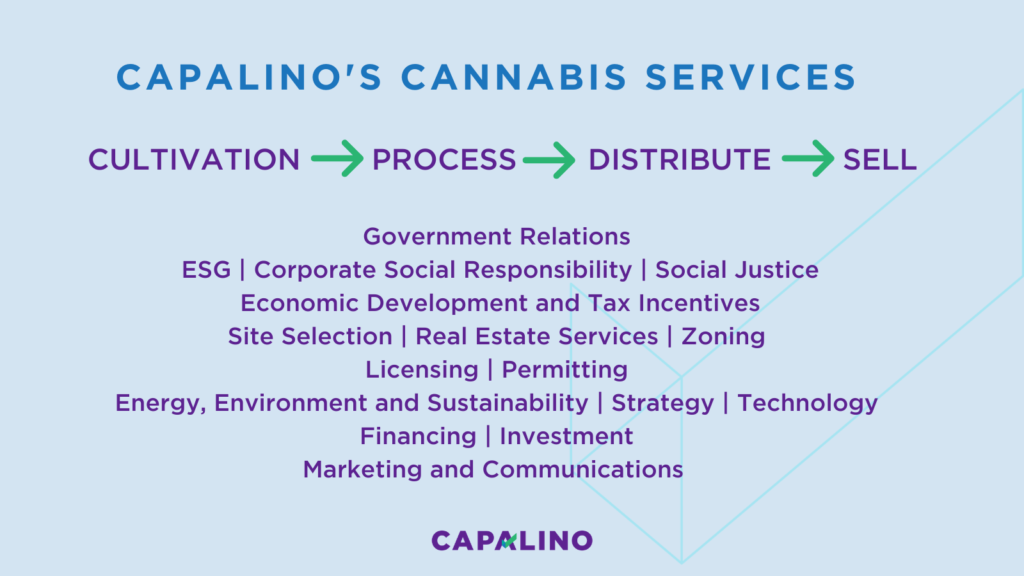 Conclusion
This new cannabis legislation will have tremendous impact economically, culturally and socially, New York is undergoing a huge cultural shift now that marijuana is legal. The amount of new business opportunities across the sector is staggering and cannabis has the potential to change the face of New York's retail landscape which will have major implications for the future of New York. The expected tax revenues will aid New York's ability to recover from Covid-19 and the social equity component of this legislation will help to right wrongs of the past. While there are many facets that still need to be finalized, New York is well on its way to creating a legal cannabis industry that's sustainable, diverse, and inclusive for all.
Capalino is a "one stop shop" helping companies navigate New York's business, technology, real estate, environmental and political landscape, and our Cannabis Advisory Team will advise businesses across all these areas. For help complying with key policy and regulatory developments, or to learn how we can help you successfully do business in New York, visit Capalino's Cannabis Advisory Services or contact Jeffrey Lee, Principal at Capalino, at jeffrey@nullcapalino.com.