After years of stalled attempts, New York State recently became the 15th state in the nation to legalize recreational cannabis, with the passage of the Marijuana Regulation and Taxation Act. Cannabis companies, and those interested in entering the industry, are mobilizing to get their piece of the projected $4.2 billion cannabis industry in New York.
Capalino has been working with companies, City and State officials, and advocates on this legislation for many years to help shape the marketplace and ensure a sustainable future for this nascent industry. Capalino recently launched a Cannabis Advisory Team to assist businesses in navigating the complex political, business, regulatory and real estate landscape.
Capalino's Cannabis Advisory Team is advising businesses on how to tackle this new legislation and its complex regulatory requirements to maximize opportunities for market penetration and business growth. The team combines expertise in land use, permitting, business strategy, social responsibility and community engagement to help identify qualifying sites and opportunities and to assist with successful approvals. This applies to the range of retail and other outlets, as well as locations for processing, warehousing, and distribution facilities. Capalino will also help drive business strategy and address the social equity programs that are an integral part of this legislation.
Our diverse team brings together unparalleled expertise and insight to deliver comprehensive solutions that will help your business achieve long-term success in a complex and increasingly competitive business landscape.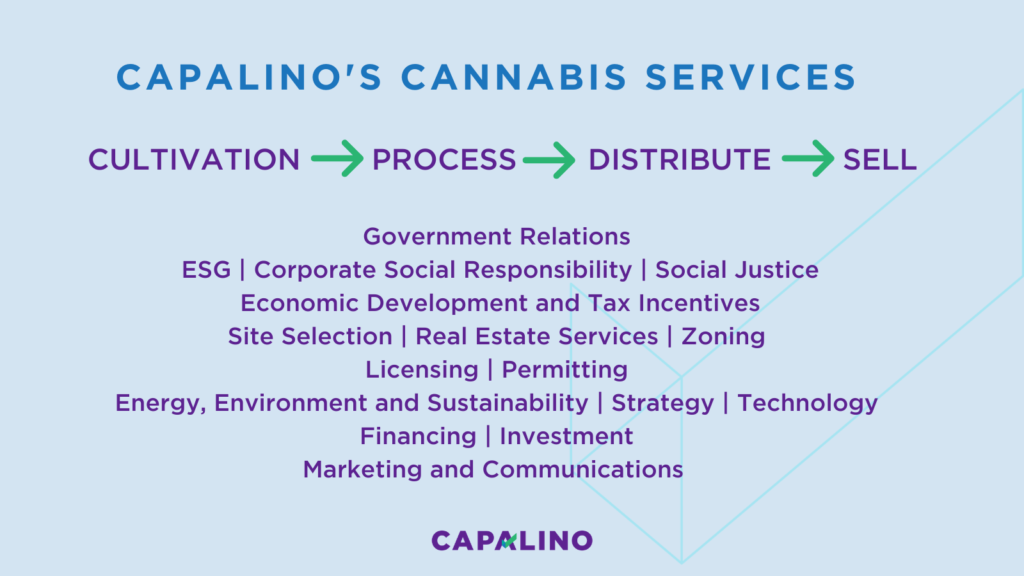 For more information on how Capalino can help your company or organization expand in the New York market, read our latest blog post New York's Cannabis Landscape: Business Opportunities are Sky High.