NYC Elections: Who's in the Lead, Key Issues Driving New York's Recovery
New Poll Results: Voters Lean Toward Moderates with Adams Increasing his Lead, New Yorkers are Overwhelmingly Positive About NYC's Future, Restaurants are Key to Economic Recovery
Written by Wendy Gerber, Chief Content Strategist
With New York City reopening this week, reemerging from the pandemic that claimed the lives of more than 30,000 New Yorkers and closed restaurants, retail stores, and other businesses, voters will be casting their ballots in the Democratic primary for Mayor on June 22, with early voting having started on June 12. New leadership will take office in New York City in 2022, rapidly changing the political landscape and affecting the reopening of our City. With over 70% of local offices up for grabs, including the Mayor, Comptroller, all five Borough Presidents, and over 35 Council Seats, there are officially 518 participating candidates running for public office in 2021. For the first time in history, candidates will be elected through Ranked-Choice Voting during the June 22 primary.
Impact of the Mayoral Election in New York City and Beyond
The impact of this election will be felt across all business sectors and communities as leaders develop a roadmap for NYC's economic recovery. It also offers a potential bellwether for the Democratic Party leading up to the 2022 midterm elections. As an ethnic, religious and socioeconomic melting pot, New York City's Democratic mayoral primary will provide insights into how Democratic voters are thinking about their party and its policies at the midpoint of President Biden's first year in office and with Mayor Bill de Blasio's second and final term coming to an end. While New Yorkers tend to lean left, they are also very pragmatic, especially when faced with the need for economic recovery from the Covid-19 pandemic.
With New York City just starting to reemerge from the pandemic, voters will be casting their ballots in the Democratic primary for Mayor on June 22, with early voting having started on June 12. With over 70% of local offices up for grabs, new leadership will take office in New York City in 2022, rapidly changing the political landscape.
Capalino, the leading urban strategy firm, released a new poll of NYC Democratic voters, which found that more than a quarter of voters support Eric Adams, and believe that housing, economic recovery and jobs are key issues that need to be prioritized by the next Mayor.
Balloting Results
Conducted for Capalino as part of its ongoing research into New York's recovery, the poll by the Honan Strategy Group found that Eric Adams, the Brooklyn Borough President and former police officer, is taking a more robust lead in the race for Mayor with 28% of the vote, followed by Andrew Yang with 19%, indicating a preference for more moderate candidates. Both Adams and Yang have opposed a "defund the police" platform, citing the need for public safety, and both are moderate Democrats. Adams even briefly left the Democratic Party in the mid-1990s because he viewed it as too far left on the issue of crime. In the next tier of candidates, Kathryn Garcia picked up ground with 13%, followed by Shaun Donovan with 9%, Maya Wiley with 7% and Scott Stringer with 6%. Sixteen percent of voters haven't settled on a choice yet.
With less than one week to go before the Democratic primary, progressives seem to have coalesced around Maya Wiley, former counsel to Mayor de Blasio. Many expected that Rep. Alexandria Ocasio-Cortez's recent endorsement of Maya Wiley, a progressive activist and former chair of the Civilian Complaint Review Board which conducts oversight of the New York Police Department, might lead to a polling bounce. We conducted additional polling to determine the impact of AOC's endorsement and the new polling showed a minimal impact on the mayoral race: Wiley got a slight bump from AOC's endorsement, rising from 7% up to 11% of voter support, which only tied her for third place with Garcia.
For the first time in history, candidates for NYC Mayor will be elected through Ranked-Choice Voting (RCV) during the June 22 primary with the goal of giving voters more say in who gets elected and minimizing negative campaign tactics and disparities in candidates' financial coffers. In RCV, voters rank candidates in order of preference, and then those rankings are used to elect candidates who best represent their constituents. Even if voters' top choice candidates do not win, they can still help choose who does get elected.
Capalino/Honan also conducted a simulated Ranked Choice Voting simulation to determine likely primary winners. The rankings are as follows: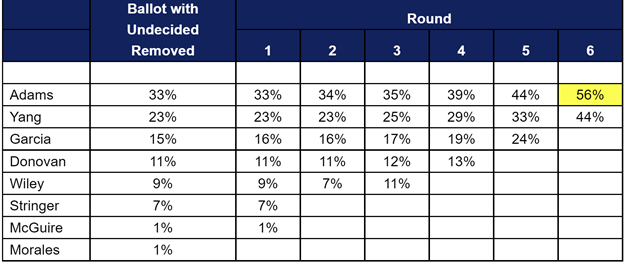 It is worth noting that once polling questions went beyond the second choice vote question, most voters could not name a third, fourth or fifth choice, despite Mayor de Blasio and DemocracyNYC spearheading a $15 million voter education campaign to inform New Yorkers on the new RCV system.
Capalino CEO James Capalino stated, "With new leadership taking office across New York City, we look forward to assisting clients in navigating the political landscape, leveraging Capalino's expertise in both political strategy and business and non-profit strategy to drive growth for our clients. It's clear that New Yorkers are optimistic about New York's future and businesses and institutions look forward to working with the incoming Administration."
Top Priorities for New Yorkers
While violent crime has increased in the city, and political and media outlets have called it a key factor in Adams' lead, Capalino's polling proved otherwise. When asked about priorities for NYC government as the City looks to rebuild in the aftermath of Covid-19, crime is certainly a key issue among voters, but it is not the leading issue. Voters indicated that the most pressing priorities for NYC government are housing/affordable housing (20%), rebuilding the economy and creating jobs (15%), and education and schools (12%), followed by crime/safe streets and safe neighborhoods (10%) and police reform (7%).
Bradley Honan, CEO of the Honan Strategy Group who conducted the polling noted, "These findings are a myth buster. While crime continues to be an important issue, it is not the critical factor driving voting preferences. Instead, housing and economic recovery are most important for New Yorkers who also indicate a preference for moderate candidates."
Optimism for the Future of New York
New York City came back after 9/11, demonstrating its resiliency under the most trying of circumstances. We are on our way to a comeback after the pandemic. And polling indicates by a landslide that an overwhelming number of New Yorkers envision a city that's greater than ever. While the pandemic took a huge toll on New York City, with vaccines now available, migration to New York is growing twice as fast as in 2019 according to location-data firm Unacast. People are also buying up real estate in Manhattan once again. The rebound in March alone was the strongest in fourteen years–since 2007–with about 1,500 homes in Manhattan under contract for sale, according to a report from The Wall Street Journal that cited real-estate analytics firm UrbanDigs. New Yorkers are overwhelmingly positive about the future of New York.
Key results from the new Capalino poll conducted by Honan Strategy Group confirm that New Yorkers are overwhelmingly optimistic about New York's future, contrary to some media reports that continue to portray a gloom and doom scenario for Gotham City. In what amounts to a landslide, 92% of voters agree that NY was very hard hit by the pandemic, but they knew it would recover, and 92% are optimistic both about NY's recovery from Covid-19 and New York City's future.
Jim Capalino noted, "We are glad to learn that New Yorkers voice overwhelming support for New York's future. At Capalino, we launched a webinar series called 'The Future of New York' featuring thought leaders addressing critical challenges and solutions to drive New York's economic recovery and spearhead inclusive growth and these polling results align with both the optimism of our speakers and the confidence that with effective governmental leadership in 2022, we can come back quickly and justly."
Restaurants and New York City's Recovery
One of the most beloved aspects of life in New York City is one that was impacted the most by the pandemic and can also serve as a primary force in New York's recovery—restaurants. Covid-19 had a devastating impact on the restaurant industry in New York and across the country and its revival is a critical part of New York City's economic recovery. Local restaurants and bars are a key component of the City's tourism industry, which is our economic engine, as well as the heart of our communities.
The good news is New York has reopened now that adult vaccinations have passed 70% and restaurants can now operate at 100 percent capacity and New York has created a "café culture" with new ways to dine outdoors. The comeback we envisioned is finally in our sights.
The new Capalino poll shows that an overwhelming 82% of New York City voters believe that New Yorkers should eat out at restaurants to help the restaurant industry which was crushed by the pandemic, and which puts money back into the hands of working people. Even more people (89%) felt that bringing New Yorkers and tourists back to eat at restaurants across all five boroughs is critical to NYC's recovery.
Capalino recently launched a new Hospitality Advisory Team to help restaurants and other businesses in the hospitality sector leverage funding opportunities and rebound from the pandemic. The Hospitality Advisory team is working with business leaders to devise plans to revive the hospitality sector that employs over 16 million people and provides ladders of opportunity to women, people of color, single mothers, immigrants, and the formerly incarcerated. The team leverages Capalino's ability to serve as a "one-stop shop" with services including strategy, real estate, permitting, financing, and lobbying to help restaurants and other businesses strategically plan their recovery. Capalino has a long history of partnering with the hospitality and restaurant sector to help well-known operations such as Ian Schrager Hotels, the Gramercy Park Hotel, Chatwal Hotels, the Four Seasons Restaurant, Knickerbocker Hotel, the River Café and Union Square Hospitality Group.
Capalino also recently held a program on the "Reviving NYC's Restaurant Industry: Bringing New Yorkers Back to the Table" featuring celebrity chef Tom Colicchio and Andrew Rigie, head of the NYC Hospitality Alliance, moderated by Travis Terry, President of Capalino. Terry, Colicchio and Rigie discussed the need for tourists as well as lifelong New Yorkers to explore the city and visit restaurants in boroughs outside Manhattan. "People aren't just going to eat in those communities. They'll walk around and make purchases, creating economic opportunities for other stores in the area," said Rigie. Colicchio added that he is trying to get "Top Chef" to shoot in New York's outer boroughs. 89% of those polled agree that bringing New Yorkers and tourists to eat at restaurants across the five boroughs of New York City is critical to New York's recovery from the pandemic.
In the wake of shutdowns from the pandemic, nearly one-third of New York's small businesses were forced to close for good, and more than 1 million people statewide lost their jobs in the process. A disproportionate impact hurt traditionally disadvantaged groups such as Black and Hispanic communities. Voters have indicated that rebuilding the economy and creating jobs is a key priority. Capalino is working with small businesses to help them take advantage of the Business Pandemic Recovery Initiative programs—including $800 million in state funding for small businesses. The next Mayor will need to drive robust, inclusive business growth.
Impact of Cannabis Legalization
One opportunity for tremendous economic growth in New York is the newly legal cannabis industry. Cannabis companies, and those interested in entering the industry, are mobilizing to get their piece of the projected $3.7 billion in sales by 2025. Legalizing marijuana is encouraging news, especially as we recover from the COVID-19 pandemic and look for ways to drive both economic recovery and equity in New York.
In its poll, Capalino asked Democratic voters whether they are likely to try cannabis now that it is legal. Among voters, 26% indicated they were or might be interested in trying recreational cannabis products now that they are legal in New York. Since the poll showed that economic recovery is one of voters' top priorities, the legalization of cannabis will help achieve that goal. New York is undergoing a huge cultural shift now that marijuana is legal and as education increases, stigmatization is likely to decrease and cannabis usage among voters is likely to increase beyond our polling figures.
The legalization of cannabis will have tremendous impact economically, culturally and socially. While the legislation and its implementation are evolving and there are many details of the program that need to be worked out, including regulatory, licensing and zoning requirements, the amount of new business opportunities across the sector is staggering. Cannabis has the potential to change the face of New York's retail landscape which will have major implications for the future of New York. The expected tax revenues will aid New York's ability to recover from COVID-19 and the social equity component of this legislation will help to right the wrongs of the past. While there are many facets that still need to be finalized, New York is well on its way to creating a legal cannabis industry that's sustainable, diverse, and inclusive for all.
Conclusion
The Capalino poll findings provide important insights for business leaders and the public. The political transition in New York City will involve a myriad of factors—economic recovery, housing issues, cultural change, technological disruption, crime issues, education, workplace planning, and rapidly evolving health developments. Capalino has been at the forefront of New York government relations for more than four decades, and recently expanded its services to help clients navigate the political and business climate with expertise in strategy, real estate, lobbying, financing, social impact and sustainability. Capalino will assist clients in navigating this electoral transition and understanding how new policies, politicians and political appointees will impact their business operations.
The new poll results were shared by Capalino and Honan during an important program on "NYC Elections: Key Issues Driving New York's Recovery" on June 17 featuring Jim Capalino, CEO of Capalino, Bradley Honan, CEO of Honan Strategy Group, and Jesse Aman, Senior Associate, Capalino (moderator). Watch the webinar here.