Executive Vice President Richard Barth on "Building Community: Placemaking at Hudson Yards"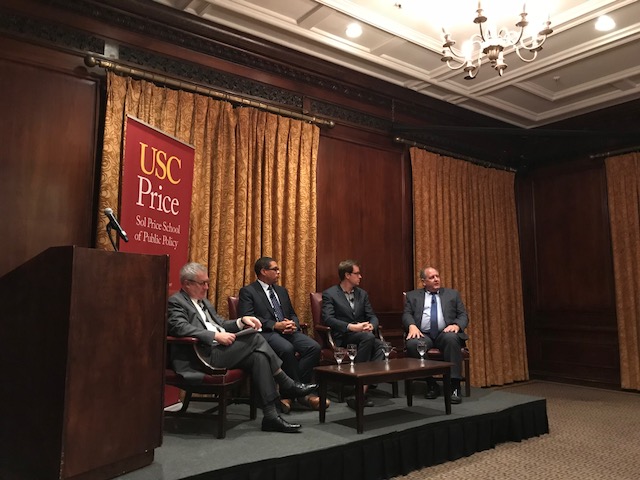 "Hudson Yards is being transformed and woven into the fabric of Manhattan."
On Monday, October 2, Capalino Executive Vice President Richard Barth joined government experts, educators, and policy analysts for a thought-provoking conversation on "Building Community: Placemaking at Hudson Yards". Hosted by the USC Price School of Public Policy, the event is part of a series of conversations in New York about hot-button policy issues facing the nation.
Moderated by USC Price Professor Richard Green, panelists included Adam Ganser, Vice President for Planning and Design, Friends of the High Line; Kyle Kimball, Vice President of Government Relations, Con Edison, and former President of the NYC Economic Development Corporation.
The Hudson Yards project, located on 26 acres above the MTA railyards on the Manhattan's West Side, is the largest private real estate development in the United States, and one of the most complex redevelopment projects in New York City's history.  This project is part of a comprehensive plan and rezoning adopted in 2005 that encompasses over 200 acres and provides capacity for over 40 million square feet of development. It also provided for substantial new open space and an extension of the Number 7 Subway Line using creative self-financing mechanisms.
As the former Executive Director of the City Planning Department, Richard Barth discussed the intricate roles of the public and private sector, innovative financing mechanisms and the decision-making that was necessary to reimagine this underused area and make this project a reality.
"It is particularly gratifying to have been involved in a project of this magnitude and to see the vision become a reality as this area is being transformed and woven into the fabric of Manhattan," said Richard Barth.
Learn more about the Hudson Yards project: http://www.hudsonyardsnewyork.com/about/the-story/
---
Get The Latest From Capalino! Sign up for our free weekly newsletter for a roundup of top news and appointments from New York City and State government straight to your inbox every Friday. Click here to subscribe to Affairs+Appointments.