Capalino Leads Workshop for Technology and Innovation Firms at Startup Spectacular
Capalino was proud to support TechBreakfast's biggest event of the year, Startup Spectacular, which took place at Fordham Lincoln Center campus this week. The two-day event brings together entrepreneurs, techies, developers, designers and many others to showcase and discuss new technology. In its first year, the event combined six of TechBreakfast's most popular events including BizBootcamps, workshops that provide attendees with information on a wide breadth of company formation and growth topics.
Capalino's Executive Vice President George Fontas and Senior Vice President Tom Gray demonstrated their expertise in the tech sector by leading a BizBootcamp Tuesday on "Doing Business in New York City as a Technology and Innovation Firm." The presentation discussed the challenges in navigating New York's public and private sector marketplace and provided a guide for "Go-to-Market" and "Go-To-Government" strategies to overcome those challenges.
Tom Gray led attendees step-by-step through the city procurement process, including a list of useful resources ad current Requests for Proposals of interest to the tech sector. In addition to procurement, Tom discussed why it's imperative to easily state which urban problem you're trying to solve as well as developing a proof of concept.
"It's really crucial that you personalize your message because oftentimes you only have one bite at the apple in NYC," Tom explained.
George Fontas asked the crowd to name a company they're interested in starting. He took the audience through an interactive, step-by-step process outlining a Go-To-Government strategy for the idea of a pothole filling asphalt company. This strategy consisted of understanding your market environment, identifying government agencies to work with, knowing your third party supporters and incumbents, and timing your roll out.
"Your Go-To-Market strategy should roll out in parallel to your Go-To-Government strategy," said George.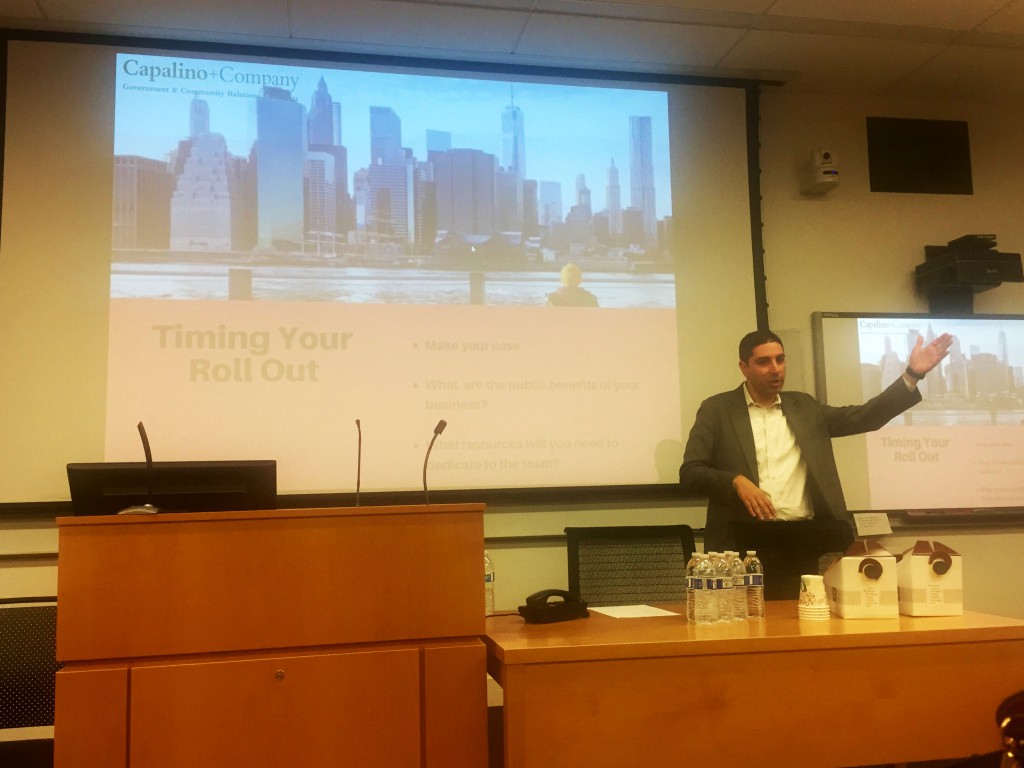 Attendees asked questions following the presentation with a 15 minute Q&A and talked to Capalino staff during the evening expo event.
At Capalino, we understand the challenges facing technology and innovation companies looking to enter the New York Market and how to overcome them. Contact Executive Vice President George Fontas and Senior Vice President Tom Gray to see how we can help you succeed in the New York Market.
George Fontas, Executive Vice President
george@

null

capalino.com
212-616-5816
Tom Gray, Senior Vice President
tom@

null

capalino.com
212-616-5819
---
Sign up for our weekly newsletter here to keep up with the latest news in NYS.